Recent Press Clippings
Fonté Café & Wine Bar is Celebrating!
By Michele Costanza…bringing you a humorous view on consumer topics in an all-too-serious world.
If you haven't been to Fonte Cafe & Wine Bar, there's never been a better time to go… Fonte Coffee Roaster is celebrating their 20 year anniversary!!
To celebrate the kick-off of another successful decade, owner Paul Odom hosted a swanky party at their flagship retail store in the Four Seasons Hotel, showcasing the exceptional culinary talents of their newly appointed Executive Chef, Garrett Michael Brown. If you've heard that name before, it's probably because he's won rave reviews from the likes of Nancy Leson and Seattle Metropolitan Magazine for his work at Belltown's Branzino, Verve Wine Bar & Bistro, Ray's Boathouse, and my personal favorite, Harvest Vine.
Check out a few photos (taken by the talented and charming Jackie Donnelly Baisa) of the gorgeous food, prepared with an emphasis on organic, sustainable ingredients, as well as the Fonte Espresso Martini, which was the hit of the night. LOVED those martinis, but with a full shot of espresso in each one, I was talking a million miles per hour by 9:00pm…they're basically the classy Seattle version of Red Bull and vodka.

Roasted Suckling Pig (all photos by Jackie Donnelly)

Yum

Espresso Martinis
If this party is any indication of what to expect from the seasonal menus at Fonte Cafe & Wine Bar this year, I highly suggest you make your reservations now!
By the way, with its convenient location across from the Seattle Art Museum and steps away from Pike Place Market, stop in for a decadent coffee tasting experience that beats any other in the city. With twenty years of premium coffee-roasting experience, Fonte definitely takes the art of fancy-caffeination to a new level.
Fonte Cafe & Wine Bar
1321 First Ave
Seattle, WA 98101

Seattle
Fonté Café and Wine Bar Looking For New York Location
ExpansionWire
Monday, September 24, 2012, by Eater Staff
Paul Odom, whose family owned Seattle's Coca-Cola franchise, was in his early 20s back in 1992, when he launched a coffee company named Fonté. The timing was perfect: although Starbucks had been around for a while, the specialty coffee phenomenon had not yet taken wing. He hired a full-time Master Roaster, Steve Smith and committed Fonté to serving a variety of exacting clients (top hotels, famous chefs and restaurants worldwide) with small-batch, custom-roasted coffee beans. After twenty years of building relationships in the Emerald City, he's ready to expand beyond it.
Odom has had a sales team in New York for the past four years. One additional assignment, he tells Eater: find a spot for a Fonté Café and Wine Bar in the Big Apple. He's not discouraged by the relative lack of success encountered by Seattle's Via Tribunali on the Lower East Side. He won't comment, on the record, about what they did wrong, but says, "We're going to do it right. There's so much more we can do."
"Nobody does a café like this in Seattle," Odom says, glass of Prosecco in hand to celebrate his company's 20th birthday, "but you can't pay the rent if all you serve is coffee."
He's particularly thrilled with his specialized selection of charcuterie. And yet, in Europe, this is what a café is all about. "We needed to look at this space as more than just a coffee roaster."
¸ All Fonté Coverage on Eater Seattle ¸ All Expansion Coverage on Eater Seattle
—Ronald Holden
Fonté Café and Wine Bar
1321 1st Avenue, Seattle, WA

Grown Under The Guatemalan Sun – Fonté Roasts A Perfect Morning Coffee
Seattle, WA(July 12, 2012) – Master Roaster Steve Smith recently released Fonté Coffee Roaster's new "Guatemala El Limonar" (the lemon tree), which has limited availability. Once harvested, this blend of old planting Bourbon, Mondo Novo and Caturra varietals are processed at the wet mill on site and then carefully patio dried under the sun. This clean and light coffee can brighten a morning with its lively citrus notes and malted milk chocolate finish. "Guatemala El Limonar" retails for $20 a pound and can be purchased online at www.fontecoffee.com, or Fonte Cafe and Wine Bar (1321 First Ave) located in downtown Seattle, across from the Seattle Art Museum.

The El Limonar estate is located in the mountainous Huehuetanango region that approaches the southern Mexico border. It is operated by second generation growers, sons and daughters of the Aguirre family, coffee pioneers of the area who founded the El Injerto estate. El Limonar has been in operation since the mid-fifties, has won regional and national awards for its ecological and socially sustainable practices, including recognition in the Cup of Excellence competitions.

"In the cup, this year's El Limonar presents a dominant character of sweet lemon, with lots of fruity citrus notes throughout. Overall lighter in body, this straightforward cup makes a perfect morning coffee, in turns tart, sweet and clean", says Smith
Sozo winemaker dinner at Fonté Café – Downtown, Seattle
Posted by: Tossed Salads and Scrambled Eggs on: Tuesday 28 February 2012
Disclosure: I attended this event as a guest of Allan Aquila. This is not a sponsored post.
After a brisk walk into Downtown and a quick browse in the SAM Shop I crossed the street to Fonté Café for the Sozo winemaker dinner.
sozo (so·zo) – noun To save, keep safe and sound, to rescue from danger or destruction. To save a suffering one from perishing, to make well, heal, restore to health.
Sozo is an artisan winemaker that selects quality grapes from vineyards to craft their own blends. The company partners with not-for-profit organisations to distribute a portion of sales to assist those in need. Each bottle of wine has a medallion affixed to its label to indicate its contribution to Sozo's commitment to the community. For example, '5 lives' is equal to five meals supplied by local food banks.
Winemaker Cheryl Barber-Jones collaborated with Chef Peter Jahnke on the wine pairings for the five course tasting menu.
The first course was pear, caramelised onion and St André tart, and Sozo Humanity Riesling. Amber and flaky, the tart had a delicate sweetness that was accentuated by the mellow Riesling.
A generous fillet of salmon perched on a mound of mushroom risotto, and Sozo Potential Pinot Noir. Averse to fish skin, I gently peeled it from the perfectly cooked flesh. Both the salmon and creamy rice was well seasoned.
The third course was duck confit with lentils, and Sozo Abundant Mourvèdre Syrah Blend. I love duck but unfortunately this was a little dry and lacked the sumptuous texture of confit meat. Traditionally coupled with Pinot Noir, the Mourvèdre Syrah was a delightful match with the game.
Abundant Mourvèdre Syrah Blend, one of four Sozo wines sampled.
The penultimate dish of braised beef with blueberry barbecue glaze, polenta and kale, and Sozo Generosity Syrah Tempranillo Blend was my favourite of the evening. Tender chunks of slow cooked beef were atop luscious polenta and wilted kale.
We concluded with an affogato. A single shot espresso and a scoop of espresso gelato was presented in a coffee cup. The espresso and vanilla ice cream are served separately in a classic affogato. The caffeine and sugar were appreciated after four diverse savoury courses that highlighted the Sozo wines.
Charmed by the smooth Riesling, Mrs W and I both purchased a bottle.
We were gifted a bag of Yemen Mocca Sanani as we exited into the crisp night.
Sozo is on the wine list of more than seventy restaurants in Seattle. Next time you dine out, consider this socially responsible winemaker!
Fonté Café & Wine Bar – Downtown, Seattle
Top 10 Wine Bars in Seattle

A good wine bar serves a wide spectrum of customers, from neophytes who can't tell the difference between a Chardonnay and a Sauvignon Blanc to experts who want to try a glass of a new release before buying a few cases for their cellars. At these top 10 wine bars in Seattle, presented in alphabetical order, you'll find a good selection of wines as well as knowledgeable staff and, where available, some well-paired food.
| | | |
| --- | --- | --- |
| | 1321 First Ave. Seattle, WA 98101 206-777-6193 | Menu | |
Head here for good coffee and satisfying small bites. More…

"I write, otherwise I'd be talking all the time…."
By Michele Costanza…bringing you a humorous view on consumer topics in an all-too-serious world . I love Fonté Coffee, not only because it's awesome, locally roasted coffee, but because they are committed to helping our community. What's not to love there? If you remember my earlier post on Fonté and their commitment to donate the profits from their Holiday Blend to the Pike Place Market Child Care and Preschool, then I'm sure you'll be happy to hear that they raised $11,000! What a great way to kick off the new year… ……………………….
FONTÉ COFFEE ROASTER UNDERWRITES CLASSROOM SUPPLIES FOR A YEAR
"Limited Edition Holiday Blend" Profits Cover Annual Supplies for All Four Classrooms at Pike Market Child Care Seattle, WA — On January 10 at 3:30 p.m., Fonté Café & Wine Bar will host a special celebration for the Moonbeam classroom from the Pike Market Child Care and Preschool (PMCCP), where they will sip hot chocolate and nibble on some afternoon treats. Owner Paul Odom of Seattle's Fonté Coffee Roaster will present the Pike Market kids and faculty with a check in the amount of $11,000 – the profits raised from sales of Fonté's 2011 "Limited Edition Holiday Blend".  This significant donation will underwrite a year's worth of school supplies for all four classrooms at PMCCP, and assist the organization in reaching its goal of making high quality childcare and preschool programs available to children in need.
"As a father of two and an ardent supporter of children's programs, Pike Market Child Care and Preschool is dear to my heart," said Paul Odom. "We are thankful for the espousal we received from Seattle and beyond.  Your overwhelming support this holiday season has helped make a difference for so many children."
About the Pike Market Child Care and Preschool Since 1982, The Pike Market Child Care and Preschool has annually served 90 – 100 families with children ages 18 months to five years, approximately 75 percent of whom receive tuition assistance.  They have helped nourish children of all economic backgrounds by giving them access to high quality early learning programs; fostering a passion for knowledge by ensuring an opportunity to quality early education in a diverse urban environment. The Preschool's program is nationally accredited, and is about one in ten percent of schools who have received this recognition for quality early education.  Children in the program receive healthy meals, excellent care and build the social and learning skills necessary to succeed in kindergarten and beyond.  Families in their program have the opportunity to work, job search or go to school, confident with the knowledge that their children are safe and nurtured.  PMCCP believes that development prospers in a program that supports children's choices and play.  For more information contact Executive Director Ellen Greene at ellen@pikemarketkids.org or www.pikemarketkids.org
—————
A hot and steamy java event you don't want to miss.
By Linda Miller Nicholson on September 22, 2011
When I think about sexy food that is synonymous with Seattle, I'm sure I'm not alone in conjuring images of espresso machines steaming up the windows of one of our many local coffee shops. If coffee gets you in the mood for love, be prepared for a whole lotta foreplay this weekend during Seattle's own Coffee Fest at the Washington State Convention Center…read more
—————-
Fonté Café Voted #1 Coffee Spot by Mindy Sitton-Halleck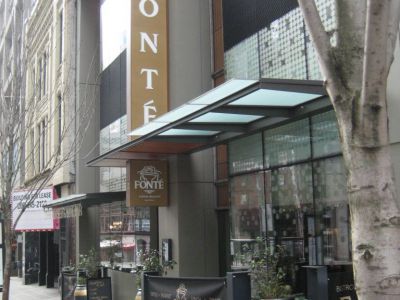 1) Fonté Café
Fonté Café, located on First Avenue across the street from the Seattle Art Museum and steps from the Pike Place Market, offers a European bistro-style experience and is as swanky as a coffee shop in Seattle gets. This cafe is befitting their local roasters reputation "the best micro-coffee roaster in the Northwest," by Northwest Palate Magazine, which has attracted a prominent, global clientele of luxury hotels including Seattle's Olympic Four Seasons and Wynn Las Vegas. The décor is elegant; a charcoal-hued wall mural of all things coffee accents the sophisticated subtle grays and earth tones creating a calming allure in the heart of the hectic city. The cozy leather booths along the window offer a great place to work on your laptop and watch the busy city masses walk by. At Fonté, classy does not mean inhospitable. The service is great and in addition to outstanding coffee they offer breakfast, lunch and dinner. Open: Tuesday through Saturday: 7AM to 10PM Sunday & Monday: 7AM to 9PM.
—————–
Food Fiend, Home Cook and Culinary Enthusiast Siiri Sampson talks Fonté

"I have never had a sneak peek into how this specialty coffee world works, but now that I know, I'm totally hooked. I think Steve, the 'big roaster man' as I call him, has a lot to do that. He's a patient teacher and a wealth of information, and best of all, he's excited to share that with everyone he meets," says Siiri Sampson in her recent online post …And I Thought I Liked Coffee? Check out her article about why she enjoyed her Fonté experience so much!
——————
Seattle Magazine's Ultimate Coffee Guide
Last fall, both Café Fonté and Fonté Coffee Roaster were featured prominently in Seattle Magazine's Ultimate Coffee Guide. Alongside writeups of the café and the roasting plant, Both Paul and Steve are featured in an comprehensive history of the Seattle coffee scene.
A snippet from the article:
"At its downtown café, Fonté showcases not only the pure bean—mostly in espresso or French press form—but also an array of coffee "cocktails." such as the Cafe Megara—featuring Metaxa, Amaretto, orange zest, Fonté F2 and fig-honey whipped cream. It may be the only place in town doing straight espresso shots infused with cognac or vodka rather than water."
Read the entire article at seattlemag.com
Seattle Magazine
October 2010
How Seattle Built A Culture Often a cup of coffee is an afterthought to a delicious meal. One of Fonté's goals is to open people's eyes to coffee as an essential part of the fine dining experience View Full PDF Story

Wine Spectator
August 2010
A Source For Great Coffee Why is it that restaurants can serve crisp, fresh salads, nuanced sauces on perfectly cooked fish and meat, and scrumptious desserts, only to end the meal bitter, diluted cup of brown dishwater that is supposed to pass for coffee? View Full PDF Story

Seattle Met
October 2009
Higher Grounds Fonté goes to the source to give you its best shot. But first, a few questions. View Full PDF Story

More Press
Puget Sound Business Journal
Undercover Hipness at Café Fonté
Heed The Hedonist